About MER (Movement for Everyday Resilience):
MER was designed specifically for those with vibrant energy yet find it difficult to keep moving. This event shares health information, resources, tips, tools, and welcomes different guest experts. The main goal is to provide Heather's community with solutions that will build everyday resilience and enrich people's lives!
Heather and her team would like to wish everyone a safe, happy, and healthy New Year! She would like to extend a special thank you to those who have been supporting her programs and "MER: Movement for Everyday Resilience" virtual series.
It is easy to get overwhelmed and carried away in a new year, with all the goals we have for 2022! We often make resolutions to keep us grounded, and sometimes we simply take on too much. It can get to the point where we forget about ourselves. Do you ever feel disconnected from yourself? During this session, Heather Skoll and guest expert, Cathrine Page, explore self-connection further; how it can affect our four pillars, along with practical tips to strengthen your self-connection.
What does self-connection mean?
Cathrine highlights that "self-connection is knowing how to love ourselves as much as we love everyone else in our lives." We may find it difficult to connect with who we are sometimes. However, "self-connection is taking care of ourselves and learning when to say NO or YES!" I could relate easily with Cathrine's definition because I struggle with saying NO to things and people even when I am at my lowest. Interestingly, I didn't view it as not loving myself, so this is a wake-up call for me. We must take all the necessary steps to love and connect with ourselves.
With so many distractions and demands in life today, it can be challenging to know when to reconnect with ourselves. Therefore, Cathrine shared several clues that we should pay attention to. For example, sometimes our minds may not be on task, so it is difficult to focus. We may be feeling flushed or experiencing heat fluctuations…our body sends signals, and we need to listen.
Heather uses the 4-pillar approach to reconnect with herself. Like Cathrine, she confirmed that the body sends signals such as aches to let us know when we are out of touch. Also, she believes that the mind can get flustered with negative thoughts when we are not connected with ourselves. What grabbed my attention the most from Heather's explanation is how she gets emotionless when she lacks self-connection. Have you ever had this experience? I have! This happened several times during my transition last year.
How can we use these "SOS moments" to reconnect?
Heather usually reaches out to the spiritual side of the 4 pillars. She practices using different actions such as playing music, writing, doodling, and doing puzzles. Activities like these can help stimulate our emotions – when our emotions are back, don't forget to let it out!
Both Cathrine and Heather shared tools we can use to help reconnect daily. Cathrine uses affirmations and statements that are uniquely created to target specific areas. For example, when she is led to eat junk food in stressful situations, she would repeat the following statement 8-10 times throughout the day – "Every day and in every way, I am trying to eat healthier." We can also create our own unique statements like Cathrine. Heather provided us with a breathing technique that helps with self-love and appreciation (please watch the recording below for the demo).
Our first MER session was so relatable. I have taken so much from it and will incorporate the tips provided in my daily routine. Having "a routine + LOVE + setting reminders" will change our lives tremendously. To reconnect and stay connected, we should "stop saying NO to ourselves" as Cathrine boldly stated. We can do a breathing exercise while waiting at the stop sign and set reminders for our affirmations.
Stay tuned for our next session on Valentine's Day, February 14th at 4:00 P.M. EST! Heather and Joan Brooks will be talking about the heart. Don't miss this one!
Passion for Wellness: Soul to Soul Event
Cathrine will be hosting a 3-day "Passion for Wellness: Soul to Soul" virtual event, in collaboration with other wellness professionals in the community. "Passion for Wellness: Soul to Soul" is a virtual event experience designed to enrich your soul, invigorate your well-being, and support families in the community. The event will feature six virtual sessions hosted by wellness experts in the community! A minimum donation amount to register for this event is $25.00CAD. Donations will be forwarded to Hill House Hospice — a place of compassion and comfort for those in need.
Please connect with Cathrine Page at tlcpagewellness@gmail.com to register.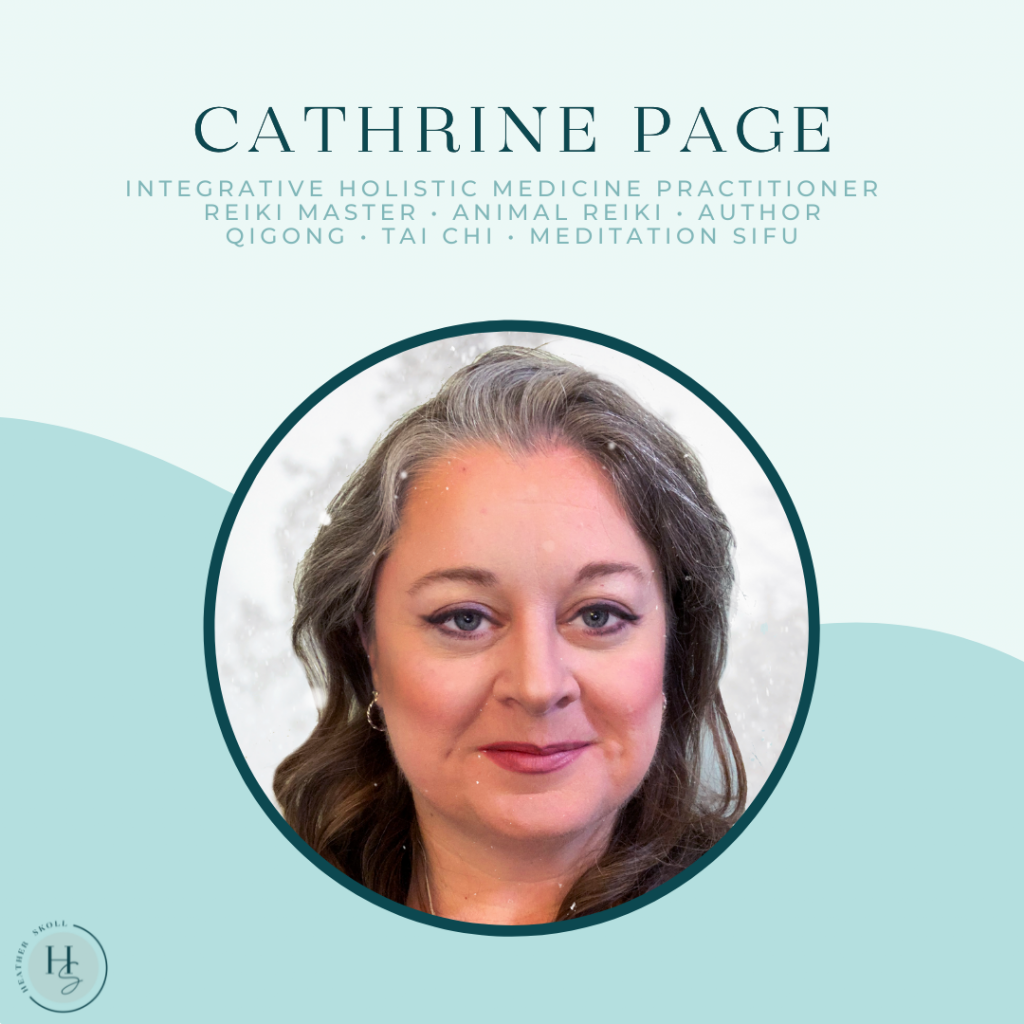 About Cathrine Page
Cathrine Page is an Integrative Holistic Health Practitioner, Tai Chi, Qigong and a Meditation teacher. With over 30 years of experience in the healthcare field, she lives her passion, shares her story, and enjoys the journey. Cathrine offers innovative and new-age technology along with ancient natural and holistic medicines, blending Eastern and Western Modalities for an enriching experience in cultivating wellness for the mind, body, and soul.